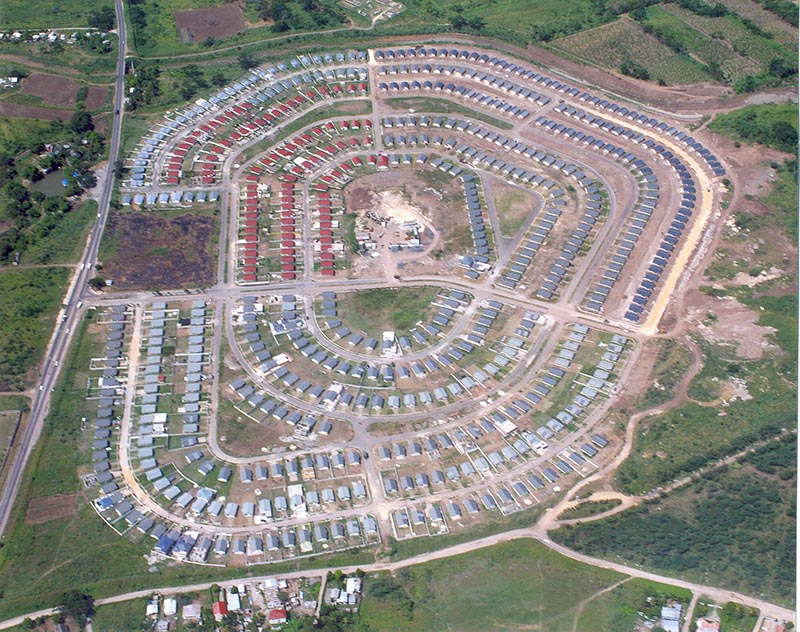 1989 – 1999
Taking the 'bull by the horn' Mayer Matalon secured funding for the development of Greater Portmore through the use of funds from the San Jose Accord.
In 1991 ground was broken for our most ambitious project ever undertaken – and what proved to be the largest housing development ever built in the Caribbean. Greater Portmore, built at Naggo Head in St. Catherine was designed as a community of 12,500 housing units.
The venture was conceptualized by the Matalons and was made possible by tapping into funds in the San Jose Accord, established by the governments of Mexico and Venezuela from the purchase of oil by Jamaica from the two countries. The Accord agreed to 20% of the overall value of Jamaica's oil purchase being used for low-interest development loans. The fund sat unused from 1980 until the Greater Portmore Project. Mayer Matalon took the concept of the project to the Presidents of both countries who endorsed the use of the funds for the development.
Portmore Pines, Manley Meadows and Christian Gardens developments followed after the construction of the Greater Portmore housing units.
The success of the Greater Portmore development encouraged new players to enter the housing market. A number of little-known and emerging companies became stiff competition during this period, as they introduced fixtures and finishes in low-end units that were at that time associated with higher priced homes. A new and more appealing design for 2-bedroom homes was also introduced by these new players and given the demand, we began to make ready to move in that direction.
In 1998 we undertook the construction of the coast road which runs from the beginning of Harbour Street to the roundabout at Harbour View.